Title:
Option Four
Rating:
T for Karkat's mouth
Trigger Warnings:
N/A
Summary:
Karkat is having sidequest issues.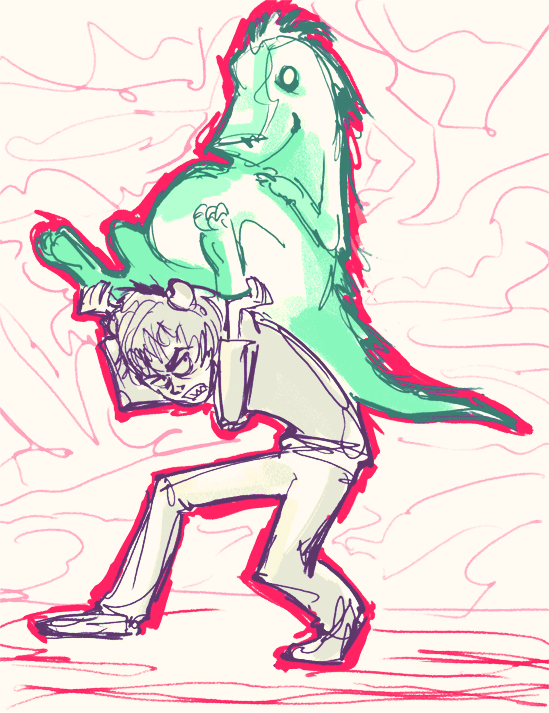 carcinoGeneticist [CG] began trolling grimAuxiliatrix [GA]

CG: OKAY, THAT'S IT.
CG: I AM THROUGH WITH THIS BULLSHIT.
CG: IF I HAVE TO LISTEN TO ONE MORE UNGODLY HIGH-PITCHED SQUEAK
CG: OR FEED ONE MORE BABBING INFANT
CG: OR OTHERWISE BE JERKED AROUND BY A BUNCH OF ASSHOLE FEATHERBEASTS WHO COULD NOT DIFFERENTIATE A FROG FROM THEIR FUCKING FEET ANYWAY
CG: I AM GOING TO DIE.
CG: ALL THE ORGANS IN MY SCRAWNY BODY WILL SWELL AND BURST UNDER THE PENT-UP STRESS OF TRYING TO KEEP FROM STRANGLING MISSHAPEN RAPTORS
CG: LEAVING MY HALF-LIQUIFIED REMAINS TO LIE ON THAT GODFORSAKEN ROCK
CG: SHRIVELING UNDER THE HEAT
CG: A TESTAMENT TO WHAT HAPPENS WHEN YOU PROGRAM OBNOXIOUS SIDEQUESTS INTO A GAME WHOSE SOLE PURPOSE IS TO MAKE YOU PREFER OBLIVION.
CG: IN OTHER WORDS:
CG: OLLIES
CG: FUCKING
CG: OUT.
GA: Karkat
CG: LOOK, I SERIOUSLY AM SORRY, BUT IT'S JUST ONE FUCKING FROG, RIGHT?
GA: It Is A Vital Part Of This Code I Have Already Explained That To You
GA: But If You Feel You Need To Take A Break I Understand
GA: Perhaps Some Time And Distance Will Help You Figure Out How To Approach This Predicament
CG: I AM NEVER COMING BACK TO THIS STUPID PLANET IF I CAN HELP IT.
GA: You Will Have To
CG: FUCK THIS GAME.
GA: If You Are Having Difficulties
GA: Then Maybe You Should Enlist Some Help
GA: A Different Set of Eyes May Be Helpful
GA: I Can Be Over There Soon If You Want Me
CG: LOOK, I DON'T NEED TO BE BABIED.
CG: I CAN DO SIDEQUESTS WITHOUT THE FUCKING BUDDY SYSTEM.
CG: JUST
CG: FINE, I'LL GO BACK. JUST AS SOON AS I RESCUE GAMZEE'S ASS.
CG: SEE YOU AROUND I GUESS

carcinoGeneticist [CG] ceased trolling grimAuxiliatrix [GA]
***
The first thing that greets him, when he finally stumbles his way through the last return node, is the smell. The second is a spray of red to the face.
Fucking lovely. Home sweet home.
He's on high ground--half the planet's visible from here--and wouldn't you know it, his hive's on the opposite end. Just like this godforsaken shithole of a game. It's not enough that he spent hours chasing down fire-breathing frogs for Kanaya, singing his shirt in the process, or that one of Eridan's demented nailfucking angels nearly took his head off. No, he has to stumble his way to the nearest village of shitty babbling frilled lizards and hope they have a pile of something that isn't drool for him to sleep in. The only saving grace of this situation is that the stupid beasts worship him like he's their mutant freak juice messiah; no matter how pissed he is at their lacksponged asses all they do is chitter and grin. If they were capable of it, he'd think they were mocking him.
At least there's one thing in the game that doesn't want to shit on him. One tiny predictable thing.
***
WHAT THE HELL, TEREZI.

1 M4D3 SOM3 1MPROV3M3NTS WH1L3 YOU W3R3 4W4Y!
She's sitting in the center of the village, perched on a makeshift adjudicator's throne. His shitty bargain basement consorts surround her, round eyes upturned, the perfect image of a captive audience--some of them are even wearing legislacerator garb, shit. The throne's decorated with teal. Terezi just grins down at him.
S1NC3 YOU 4SK3D M3 TO H3LP YOU 4ND 4LL--

I DID NOTHING OF THE SORT, AND YOU KNOW IT. IT'S NOT MY FAULT YOU DELIBERATELY TWIST EVERYTHING I SAY.

OH T3R3Z1, 1 JUST C4NT D34L W1TH MY CONSORTS! SOM3ON3 N33DS TO SORT TH3M OUT, OR 1 W1LL N3V3R B3 4BL3 TO F1ND TH1S RUN4W4Y 4MPH1B14N!

FUCK YOU, I DON'T EVEN TALK LIKE THAT.

H3H3H3

AND WHAT THE FUCK MADE YOU THINK I WANTED YOU TO INFLICT MY CONSORTS WITH YOUR PITYBONER ON LADY JUSTICE? HOW IS THAT IN ANY WAY PRODUCTIVE OR USEFUL?

TH31R L3G4L SYST3M W4S 4 SH4MBL3S! COMPL3T3 4N4RCHY. 1 S1MPLY H4D TO F1X 1T.
1N F4CT 1 F33L YOU H4V3 B33N D3R3L1CT 1N NOT SCHOOLF33D1NG TH3M YOURS3LF
P3RH4PS YOU 4R3 NOT R34DY FOR TH3 R3SPONS1B1L1T13S OF SH3PH3RD1NG TH1S R4C3
BUT 1 4M W1LL1NG TO H3LP >:]
He has had enough of this shit.
GET OUT.

YOU 4R3 TH3 ON3 WHO 1S D1SRUPT1NG ORD3R, M1ST3R V4NT4S!
P3RH4PS YOU SHOULD G3T OUT

THIS IS MY FUCKING PLANET! MY FUCKING VILLAGE.

NO K4RK4T
1 TH1NK 1T 1S TH31R V1LL4G3
He feels a hundred tiny (expectant) eyes on him. The consorts do not seem pleased. Sweat prickles on the back of his neck, but he tries not to let it show on his face.
OH, IS THAT WHAT YOU'RE DOING NOW, PYROPE?
YOU MEDDLE IN MY BUSINESS, FLOUT MY LEADERSHIP, EXILE MY ALLIES, AND NOW YOU'RE FUCKING TURNING MY CONSORTS AGAINST ME.
AM I SUPPOSED TO BELIEVE THIS IS ANYTHING OTHER THAN TREASON?
A BRAZEN CHALLENGE TO MY AUTHORITY?

YOU T4K3 YOURS3LF SO S3R1OUSLY

YOU'RE DODGING THE QUESTION.

W4S TH3R3 4 QU3ST1ON? 4LL 1 H34RD W4S WH1N1NG
4NYW4Y, 1F TH1S 1S HOW YOU TR34T YOUR CONSORTS, 1M NOT SURPR1S3D TH3Y H4V3NT B33N H3LP1NG YOU!
DONT WORRY THOUGH
1 C4N F1X TH4T >:]

GET OUT.

NOP3!

I'M YOUR FUCKING LEADER, AND I SAY GET OUT.

4ND 1 S4Y YOU 4R3 D1SRUPT1NG TH3 P34C3! H3H3H3.

GOD, YOU--
She gazes down at him as he draws his sickle, pointing it at her. Nothing in her flinches. Terezi Pyrope is five feet of solid calm.
He knows he can't hope to beat her in a stare-off. He absconds instead.
***
The good thing about massive boulders is that when you kick them, they don't kick back. The bad thing about massive boulders is--well, you're not an imbecile, figure it out. "Fucking
ow
--"
He can hear the snicker in his head, high-pitched and wild--she'd be leaning against the rock face, head thrown back, utterly in her element. Terezi never stubs her toe or gets blood in her face. Terezi has never had a problem wrapping other people's irritating little naknaks around her finger. Fuck Terezi, seriously. Fuck her maniacally grinning ass.
God, he's so tired of this. Just his luck, pulling the shittiest land of them all. Nothing but blood and rock for miles, definitely not any plants; his dumb-ass consorts harvest a kind of purple moss, but that's it. He could stay out here and try to nap in the middle of the rock pile. Or he could try to limp all the way back to his hive. Or--or!--he could pluck his fucking eyes out, eat them on grubloaf, and toss his sad sack ass into the ocean.
Yeah. Option fucking three it is.
Option four--the unwanted grub, the runt of the litter--tugs at his consciousness, but he shrugs it off. Yeah, he could crawl into the village on his fucking knees, grovel and beg before the Queen of the Cryptic in the land of the babbledrones. He could do that. She'd probably even help him if she found him amusing enough. But you know, somehow, somehow he thinks he still values his goddamn pride.
grimAuxiliatrix [GA] began trolling carcinoGeneticist [CG]

GA: You Have Made It Safely Back To Your Planet I Hope
CG: WELL, THAT'S ONE FUCKING WAY TO PUT IT.
CG: BUT YEAH, I'M NOT DEAD OR BLEEDING AND THE SEER OF CACKLES HASN'T DRIVEN ME INSANE YET
CG: YET BEING THE OPERATIVE WORD HERE
CG: SO I GUESS I'M FINE. IF YOU'RE ASKING.
GA: I Was Asking That Was The Purpose Of My Query
GA: Are You And Terezi Having A Dispute Again
CG: WE DON'T NEED A FUCKING AUSPISTICE.
GA: I Was Not Offering
GA: Merely Expressing Friendly Concern At The Situation
CG: DON'T LIE TO ME, KANAYA, I KNOW YOUR MEDDLING VOICE WHEN I HEAR IT.
GA: Technically Speaking You Cannot 'Hear' Anything
GA: As We Are Currently Communicating Through A Text-Based Medium
GA: At Any Rate I Can Give You My Word That My Inquiries Are Not Ashen In Nature
GA: I Simply Thought That
GA: Well
GA: If You And Terezi Are Fighting Perhaps You Could Use Someone Else To Talk To
CG: WHAT'S THAT SUPPOSED TO MEAN.
GA: Nothing
GA: Merely That You Seem To Rely On Her As A Kind Of Sounding Board
GA: And She Does The Same For You In Her Own Way
CG: YOU MEAN SHE GETS HER KICKS OUT OF LAUGHING AT ME
CG: AND LOVES THE SOUND OF HER OWN VOICE EVEN MORE THAN HER FUCKING CHALK SET?
CG: BECAUSE THAT'S WHAT IT IS. DRAGONS THIS, DELICIOUS RED THAT, OH MY GOD KARKAT LET ME LICK YOUR FACE
CG: H3H H3H FUCKING H3H.
CG: GOD, I FEEL UNCLEAN NOW.
GA: Dont You Think You Are Being Just The Slightest Bit Uncharitable
GA: ?
CG: ARE YOU KIDDING ME.
CG: IF ANYTHING, I THINK I AM BEING DOWNRIGHT GENEROUS IN NOT KICKING HER OFF THIS GODFORSAKEN PLANET.
CG: JUST CALL ME KARKAT THE BENEVOLENT.
GA: You Just Seem A Little Too Eager To Ascribe The Worst Possible Motivations To Everyone You Interact With
GA: She Has Spent A Great Deal Of Time Helping You After All
GA: And While I Cannot Discount Perverse Amusement As A Possible Motivation For This
GA: I Find It Hard To Believe That It Is The Sole Reason
GA: Or Even The Primary One
CG: UH-UH. "I'M NOT MEDDLING, KARKAT."
CG: RIGHT.
GA: Well Frankly If You Are Going To Make Ridiculous Statements I Do Not Intend To Let Them Go Unchallenged
GA: Your Paranoia And Defensiveness Borders On Ridiculous At Times
CG: IT'S NOT PARANOIA IF THEY'RE REALLY OUT TO GET YOU.
GA: Sigh
GA: I Mean That Literally I Just Sighed In Real Life
GA: And If You Are So Inclined You May Picture Me Making A Distinctly Unimpressed Face At The Computer Screen
GA: As That Is What I Am Currently Doing
CG: LOOK, SHE JUST WALTZED IN THERE, ASSUMED CONTROL OVER MY FUCKING CONSORTS, AND LAUGHED IN MY FACE WHEN I TOLD HER TO CUT IT OUT.
CG: HOW AM I SUPPOSED TO INTERPRET THAT?
GA: Is It Possible She Was Attempting To Assist You In The Completion Of This Quest
GA: ?
CG: WHAT THE FUCK DOES THAT HAVE TO DO WITH ANYTHING.
GA: You Mentioned You Were Having Some Trouble Getting Your Consorts To Be More Forthcoming
GA: About The Locatioin Of Our Runaway Amphibian
GA: Perhaps She Was Attempting To Win Them Over
CG: I DIDN'T ASK FOR HER HELP.
GA: Karkat You Never Ask For Anyones Help
GA: Even When It Is Obvious You Are In Dire Need Of It
CG: I CAN HANDLE IT ON MY OWN! IT'S JUST A STUPID SIDEQUEST.
CG: WHO APPOINTED HER SUPREME RULER OF EVERYTHING? WHO GAVE HER THE FUCKING RIGHT TO WALTZ IN AND STICK HER NOSE IN THE MIDDLE OF MY BUSINESS?
CG: "MAKING SOME IMPROVEMENTS." LIKE FUCK.
CG: IT'S ALL FOR HER OWN GRATIFICATION. HER SHITS AND GIGGLES.
CG: THAT'S TEREZI PYROPE FOR YOU.
GA: Her Methods Are Unorthodox I Admit
CG: UNORTHODOX?
CG: EXPLAIN TO ME HOW REWRITING THEIR LEGAL SYSTEM GETS US ANY CLOSER TO FINDING THAT GODDAMN DEMON FROG.
GA: I Am Not Terezi And Am Reluctant To Guess At Her Reasoning
GA: Perhaps You Should Ask Her To Explain Herself Before You Barge In Yelling And Making Accusations As To Her
GA: Less Than Seemly Intentions
CG: YOU ARE THE MOST INCORRIGIBLE PERSON I KNOW.
GA: Why Thank You Karkat
GA: I Am Quite Fond Of You As Well
CG: OH FUCK YOU.
He lets his head drop down against the husktop screen. Fine. Groveling it is.
***
A day ago, he was declaring this sidequest the most ludicrous waste of time that ever existed and
to hell with going on wild frog chases, I'm sick and tired of this place and you know what, stop having fun, Terezi.
Today, they're back in the same place – rewind back to square one, back to the drawing board, crap like that – and he's watching as his companion sets herself down in front of one of his consorts, attempting to communicate with it in a series of squawks and clicks.
"This," Karkat begins ineloquently, resisting the overwhelming urge to bury his face in his hands, "this is stupid."
She ignores him in favour of leaning in closer to the feathery creature, gazing into its dark, beady eyes -- or rather, staring at some point a good half-foot above its head. He winces with sympathetic discomfort as she prods it in the snout, presumably in an attempt to reach out towards it; to its credit, the consort only takes half a pace back, before deciding she is no threat and angling itself forward to nibble on the outstretched finger.
"This is beyond stupid. It's beyond ridiculous. What are we possibly going to achie--"
"Shut it!" she snaps, voice spiking dangerously at the last syllable. The consort startles, midway through nipping at her wrist. "Didn't you learn anything from yesterday?"
Several responses come to mind; as per his status quo of not really thinking before speaking, the first words that worm their way out of his mouth comprise the least favourable answer.
"Not, really, no—
ow.
"
One minute she's seated cross-legged in front of the consort, turning slowly to face him – and still several inches off, he notes, because she seems to be squinting at his shoulder as her glasses slip down the bridge of her nose – with her hand still outstretched towards the quietly-chittering raptor; the next, she's right beside him, and the side of his head hurts for some inexplicable reason.
By the time his vision stops swimming and his eyes stop watering, Terezi's leant back with satisfaction, arms crossed smugly across her chest.
"What was that for?!"
"You," she declares coolly, idly tapping her cane against her shins, "were being stupid. I was just reminding you of that promise you made to me about not trying to be so impatient with everything."
"What, so I can't state the facts now?" he grouses, bristling despite himself. "You're so unreasonable."
"Optimism," she counters smoothly, voice soft against the background of approving clucks as she bends to tickle his consort's chin, never taking her eyes off of him. Karkat feels his head beginning to pound – or perhaps it's just the ground beneath his feet, pulsing with the inimitable beat of his planet's leviathan heart. "You should get some of it."
It's stupid that he's forcing himself to hold her gaze, even though logically speaking, she can't see him. "Fine," he growls at last, stuffing his hands into his pockets.
Terezi frowns at the scrape of his shoes against loose-packed pebbles underfoot. "Where're you going?"
He half-turns towards her, feet tracing a semicircle against the gravelly ground. "Don't we have a quest to do?"
"Fuck," he spits, the expletive strangely calming to his ears. "Fuck this sidequest."
It's been god-only-knows how long, and they still haven't found the frog. Several hours – or days, he doesn't even know anymore – down the track, they're back in the middle of the colony of his planet's consorts, spread-eagled on the ground and sore from trekking all over the Land of Pulse and Haze.
"
Pulse and Haze,
" Karkat mutters darkly, rolling the syllables over his tongue. "Yeah, well, it sure is doing a good job of being hazy and vague as fuck with hints. I thought you were supposed to get some sort of clue before starting on fetchquests from hell! Isn't that some kind of rule of games?"
"No." The evenness of Terezi's voice is infuriating, and it's almost as though she's reprimanding him. "Sgrub doesn't follow any conventional rules."
"Yes, and that's because it's a reality warping game set to make everybody's life more exponentially difficult and meaningless in the process."
A consort ambles over, nosing at his cheek. He pushes its snout away halfheartedly, ignoring its chirrup of protest.
"Fuck everything, I've had it with this place. I'm tired."
His head hurts. His wrists ache. His fingers feel as though they've been scraped raw. He's got welts and bruises where the sun doesn't shine, all from being smacked in the face by errant branches and tumbling down rocky hillsides and into clumps of dry, scrubby shrubbery. "We've looked everywhere. Face it, it's not here and optimism is for chumps with nothing better to do with their lives than wasting their time believing in stupid things which may or may not exist."
The consort makes a sharp, grating grumble at the back of its throat, and nips at his ear.
"Stop," he snarls, palm landing against its feathery head with a satisfying
doof.
"Cut it out."
"Karkat."
"You know why I'm not a subscriber to this whole optimism schtick you've got going on? It's because everything's taught me that, hey, my name's Karkat Vantas and guess what, nothing's ever going to go my way and somewhere along the line, there's always going to be something waiting around the corner like a murderer in a dark alley ready to jump in my face and say, 'ha ha, fuck you and your sensibilities, I'm going to screw everything up for you and there's nothing you can do about it."
"Karkat."
"Even before we got into playing this shit-on-sticks game, nothing's ever gone right so I bet the game mechanics are just laughing in my face at this, and saying, 'damn right we're not going to let you off easy just because you, oh, I don't know, hold the
fucking future of your entire race in your hands.'
"
"Karkat!"
A shadow falls over his face. Blearily, he opens his eyes to stare up at Terezi, whose expression is as unreadable as ever despite the tightness of her feigned grin.
"You don't understand, do you? You never get it. The whole point of this sidequest isn't to give you hints and make it easy for you, it's called a sidequest for a reason! And you know what else it's for? It's to teach you patience, and that there's more than one way to solve things! What's wrong with you? It's like you can't look further beyond your own nose or anything. Just shut up and learn from your surroundings for once!"
"I did," he bites out bluntly, feeling the familiar anger bubble beneath his skin. "And look where that landed us!"
"What part of it don't you get? You haven't listened to anything or anyone other than yourself! No, it's 'I'll go beat up this ogre and get the answer out of it' this and 'I'm going to kill my denizen for setting up this crapsack ecosystem that', and you know what? You can't solve everything by being so bloodthirsty."
"I can try to." Karkat rolls over onto his side, away from the consort that keeps pawing persistently at his shoulder. "As if you're any better, with your screwed-up legal system and trying to impose it onto my planet."
By now, a swarm of fluffy raptors have been attracted by the commotion in their midst. It's discomfiting to be the subject of their scrutiny, to feel the stares of several dark, intelligent eyes upon him. To his distress, they edge closer, a pair of them making strange, rasping gurgles and tugging at his hair.
"Look, see, now they want to put me on trial for noise pollution and hoist me by my petard, which is dumb because I don't have one."
He scrambles upright as several of them mill around his ankles, all gazing up at him, voices rising in a chorus of shrill screeches which sound vaguely reptilian. "See, thanks to you they're now like an angry mob with pitchforks and—oh, god, this-is-so-stupid."
"We should try looking for it again after we've rested up for a while, if you think that'll help," Terezi calls over their squawks and chitters. "The way I see it, they're far more reasonable than you're being right now."
"No. I've had it, I'm sick of that, screw everything. My denizen can take this sidequest and shove it up where the light of a thousand fiery suns birthed from the collective raging fists of a thousand unsympathetic deities will never, ever shine until the universe has frozen over and Tavros finally summons up the guts to hate someone from the bottom of his heart and throw them off a mountain at the peak of a mystery planet orbiting far beyond the furthest ring and scrapes their pulverised remains off the ground and uses them to feed his lusus." He throws his hands up into the air, every stiff muscle and cramped nerve screaming with the frustration gnawing away at his brain. "I'm through with this."
He's about to conclude this grand statement by stalking away through the swarm of consorts—that is, until he feels something tugging at the hem of his shirt.
"What." His fingers curl into fists, nails digging painfully into his palms. "What
now.
"